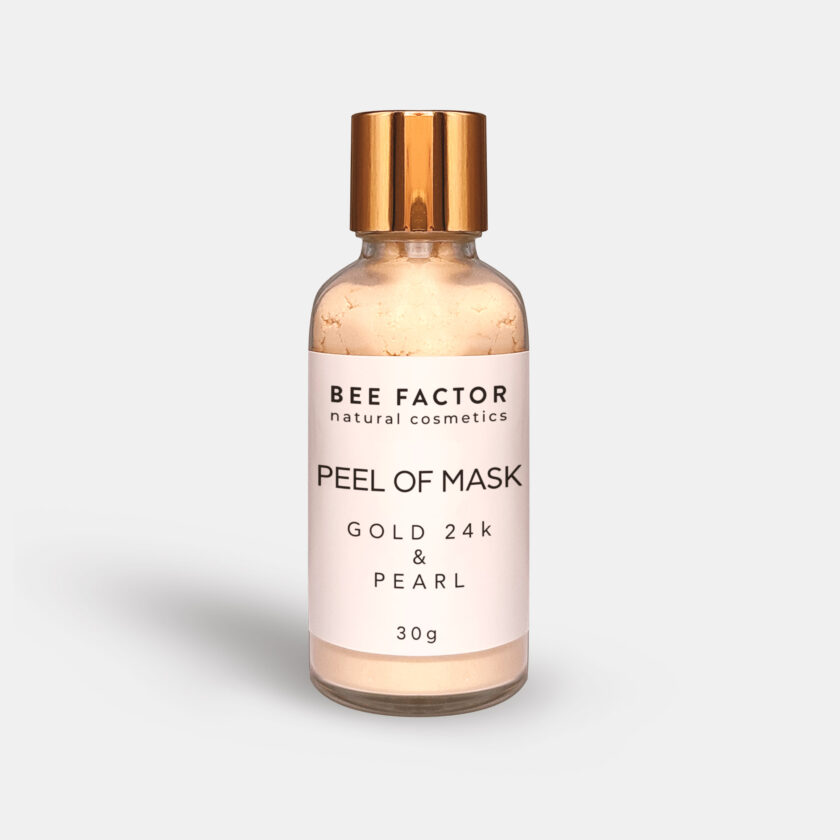 Peel Off Mask With Gold 24k & Pearl – 30gr
14.90€
In stock
The Refreshing Peel Off Mask With Gold 24k & Pearl provides gentle cleansing and leaves skin soft, radiant and hydrated.
The peel-off mask tightens and rejuvenates the skin thanks to a combination of luxurious active ingredients such as pearl and gold (24).
Ingredients : Gold Powder 24k, Pearl.
Description
Peel Off Mask With Gold 24k & Pearl – 30gr
Bee Factor Natural Cosmetics
The therapeutic and beneficial properties of its ingredients
Pearl: Pearl powder consists mainly of aragonite, a mineral known for its regenerative properties. Studies have shown its involvement in wound healing, protection and regeneration processes of all types of tissues, bones, and cartilage or soft muscles, mucous membranes, and epidermis.
In addition, pearl powder is rich in calcium, amino acids, cellular proteins, and trace elements. The peel-off mask acts as a weapon against aging, but also as a full nutrient for the skin.

Gold Powder 24 k :
Tightening and Face Lifting: Gold slows down collagen degradation and elastin degradation prevents aging.
Reduction of fine lines and wrinkles: Gold helps dilation vessels for better local circulation and moisture retention for a healthy and soft skin.
Reduction of spots, blemishes, bleaching: Since 1929, gold has been used to treat rheumatoid arthritis by reducing inflammation. The anti-inflammatory properties of gold relieve inflammation while slowing melanin secretion and diminishing age spots.
Action against free radicals: Gold prevents premature aging, drastically fighting free radicals.
Glowing gold – Gold offers shiny and bright skin.
Additional information
| | |
| --- | --- |
| Weight | 0.061 kg |
| GTIN-13 | 5212024900432 |
| MPN | 00432 |
| Manufacturer | Bee Factor Natural Cosmetics |
Use
The Peel-Off Mask with Gold 24 k and Pearl is easily prepared by adding 1 teaspoon of powder in drops of water to creat a thick paste.
When the powder is incorporated into the aqueous phase, rapid shuffling is required to achieve a homogeneous mixture.
Applying to the face should be done with quick moves by spreading a thick, single layer without any gaps.
The purpose is to create a single coat on the surface of the skin before the mask freezes.
Allow the mask to dry for about ten to fifteen minutes and remove in one piece.
Ingredients
Gold Powder 24 k, Pearl.