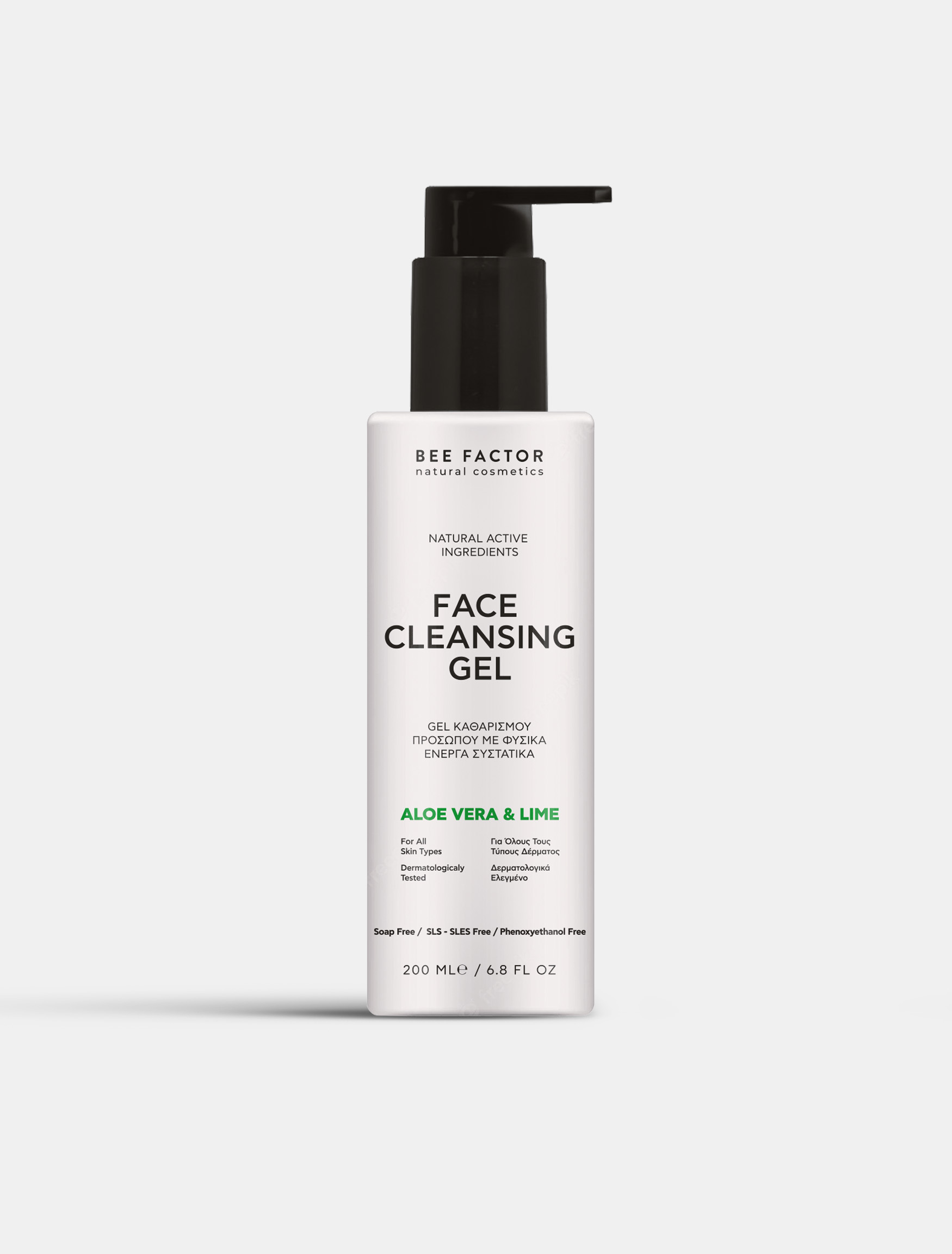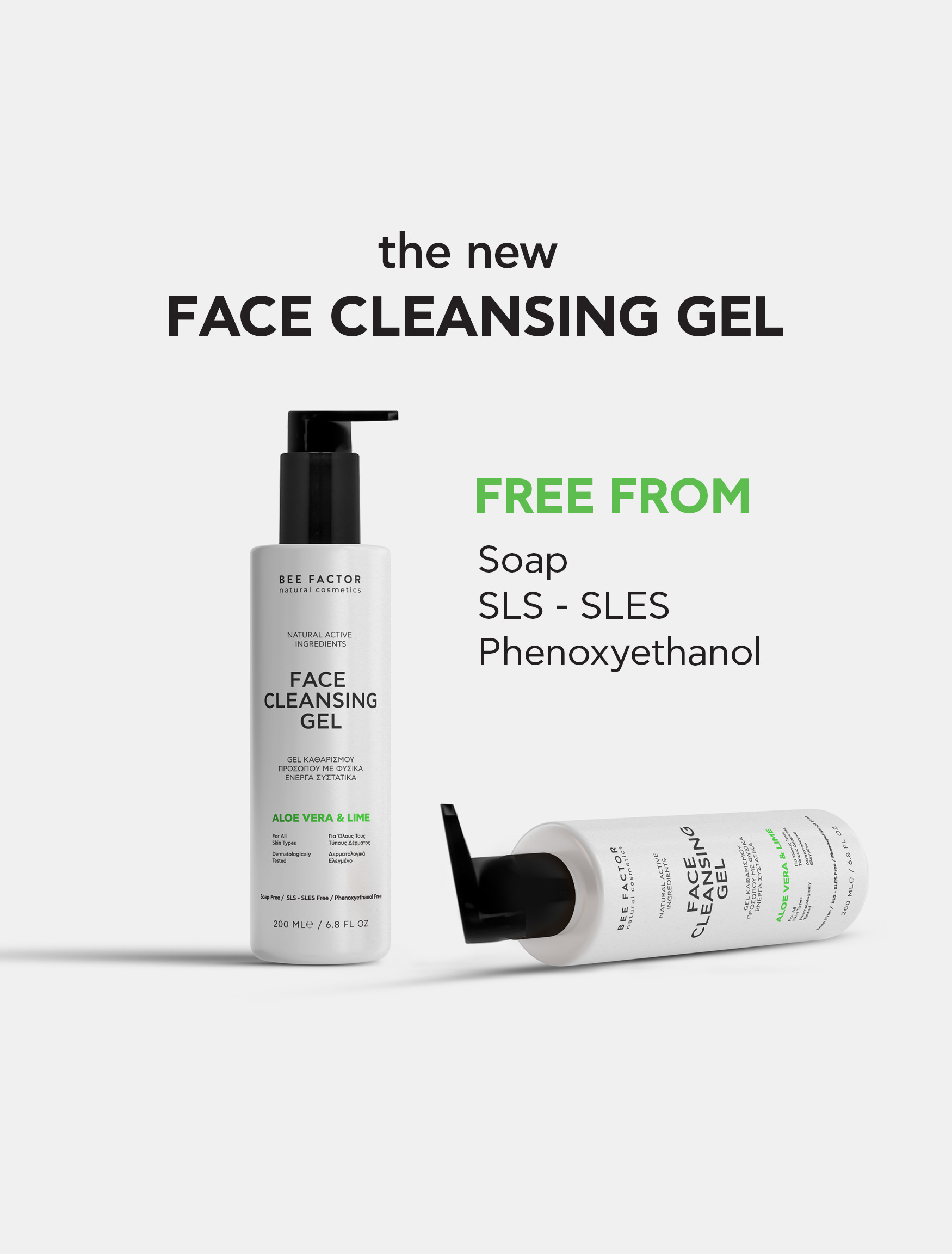 Natural Cleansing Gel For Face & Eyes – 200ml
13.50€
In stock
The Natural Cleansing Gel for Face & Eyes removes dirt, cleans the pores and leaves the skin soft, hydrated and radiant.
Provitamin B5 and Aloe Vera gel provide skin hydration and give a fresh feeling. The extracts of lime and pomegranate stimulate the skin and offer strong antioxidant, antiseptic and anti-aging action.
At the same time, the surfactant mixture cleans thoroughly and reduces grease and sebum without causing irritation. It is a mild cleanser, suitable for mixed and sensitive skin.
Ingredients: Provitamin B5, Aloe Vera Gel, Vegetable Glycerin, Lauroat, Lime Extract, Pomegranate Extract.
| | |
| --- | --- |
| Weight | 0.250 kg |
| GTIN-13 | 5212024900319 |
| MPN | 00319 |
| Manufacturer | Bee Factor Natural Cosmetics |
| INCI | Aqua, Sodium Lauroyl Oat Amino Acids, Glycerin, Cocamidopropyl Betaine, Coco-Glucoside, Benzyl Alcohol, Sodium Chloride, Xanthan Gum, Parfum, Panthenol, Citrus Aurantifolia Flower Extract, Citric Acid, Punica Granatum Fruit Extract, Dehydroacetic Acid, Sodium Benzoate, Aloe Barbadensis Leaf Juice Powder, Potassium Sorbate, Linalool, Citronellol, Hexyl Cinnamal, Limonene. |
Ingredients
Provitamin B5, Aloe Vera Gel, Vegetable Glycerin, Lauroat, Lime Extract, Pomegranate Extract.
COMPOSITION
Natural Cleansing Gel For Face & Eyes – 200ml
Bee Factor Natural Cosmetics
The healing and beneficial properties of its ingredients
Provitamin B5: Panthenol has multiple benefits. It heals wounds, enhances skin repair and accelerates cell renewal with anti-aging action.
Gel Aloe Vera: Aloe Gel is rich in vitamins and minerals. It contains minerals and traces elements such as: Folic acid, Calcium, Sodium, Potassium, Selenium, Iron and vitamins A, C, E, B1, B2, B3, B6 and B12. It has moisturizing, regenerative and healing properties.
Lauroat: It comes from oat amino acids. Oatmeal products have moisturizing, emollient, protective and soothing properties while also regulating the pH of the skin. Ideal for cleansing sensitive skin, Lauroat does not irritate skin and eyes.
Lime Extract: Being rich in powerful antioxidants, such as Vitamin C, citric acid and flavonoids, Lime Extract provides multiple benefits. It is a natural skin bleach. It stimulates the skin, cleanses deeply pores, reduces grease and smudge. It has antiseptic and anti-aging properties.
Pomegranate Extract: Acts as an anti-aging agent. It reconstructs and prevents aging of the skin. It restores moisture to the skin, making it look younger and radiant.