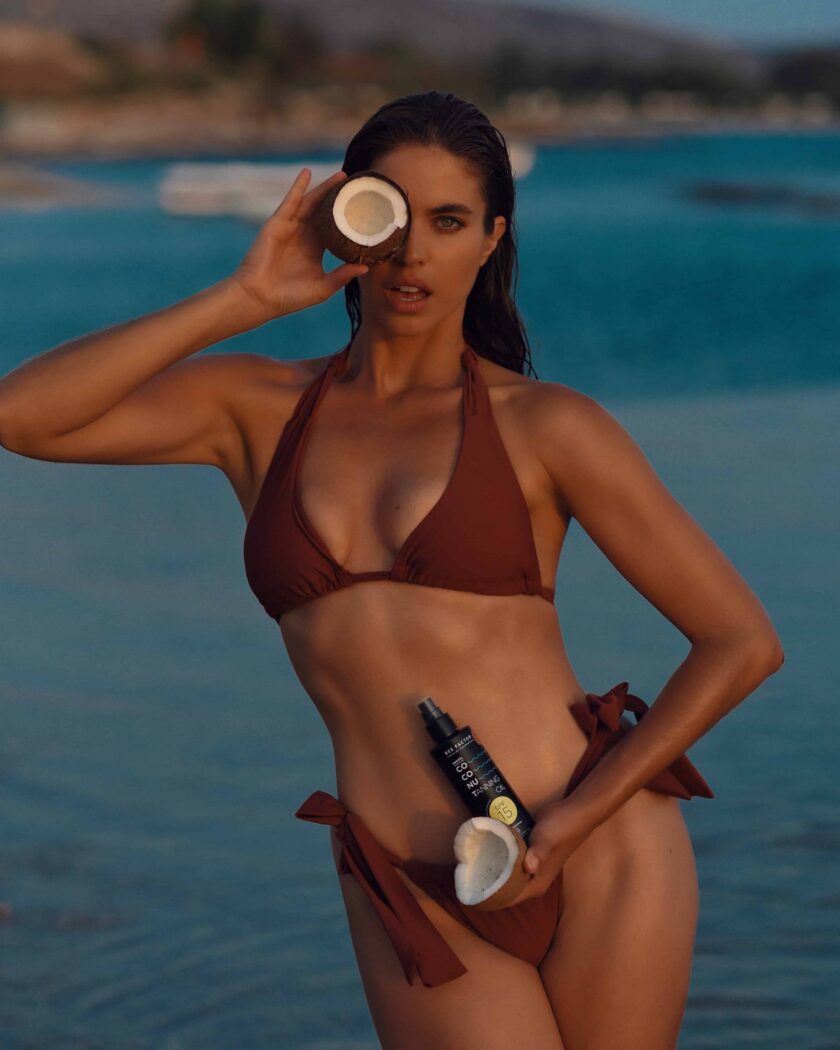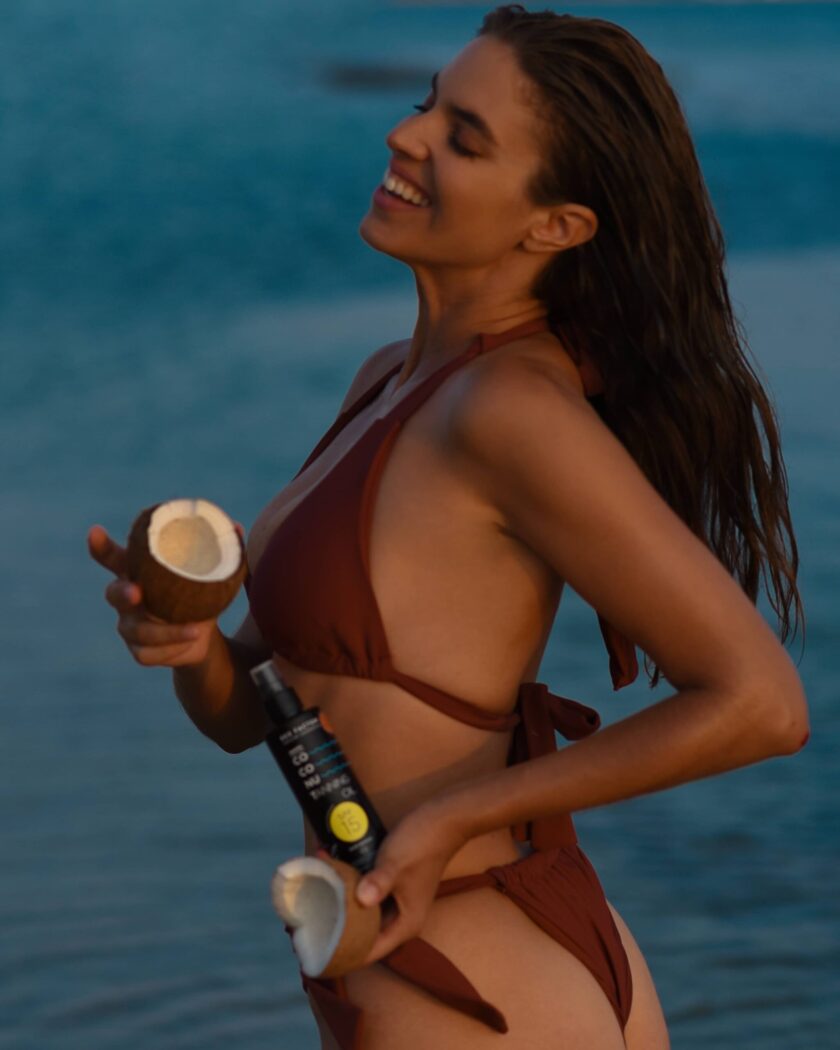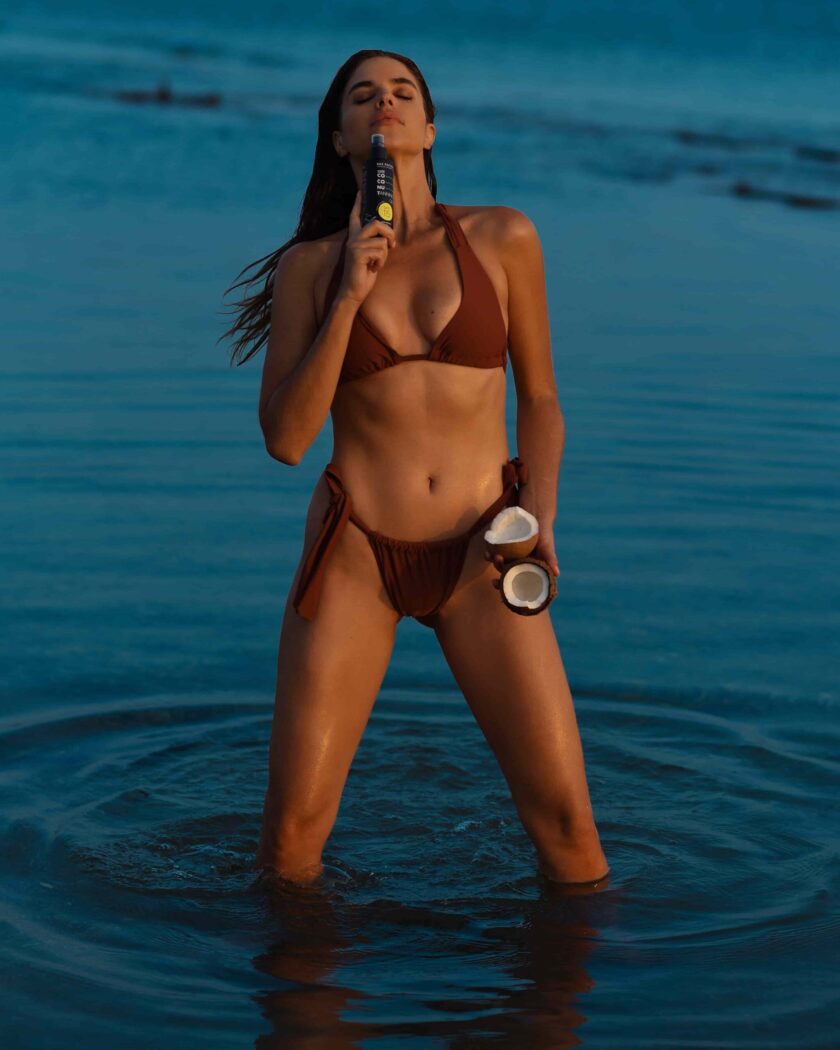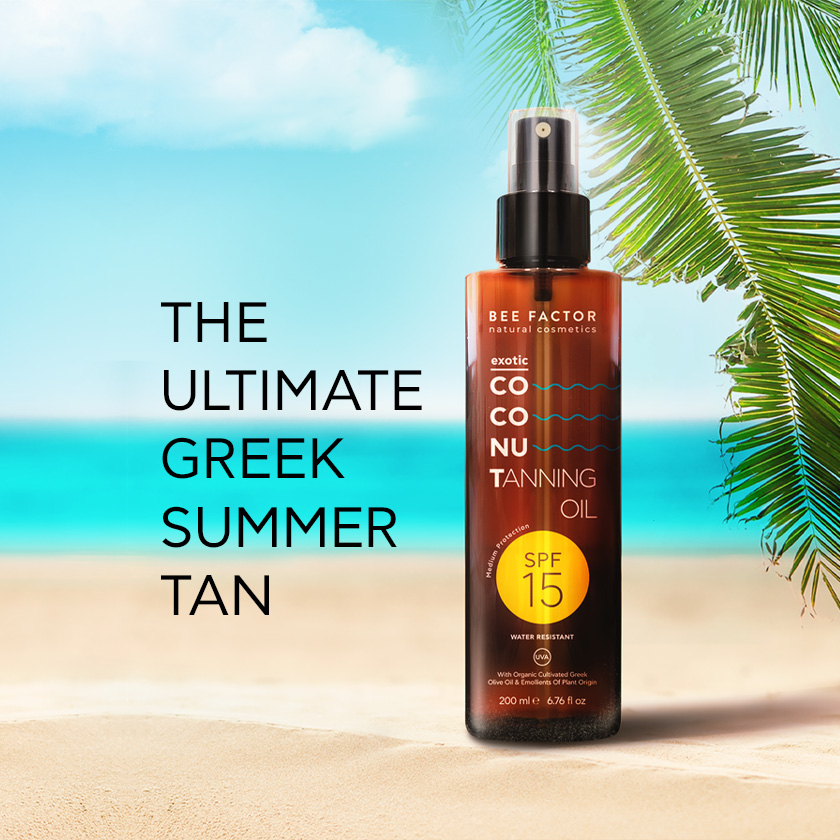 Oil For Fast & Deep Tanning «Exotic Coconut» SPF15 – 200ml
22.00€
In stock
The absolute natural sunscreen with SPF15 for fast & deep tanning with the smell of EXOTIC coconut!
Advanced composition of new technology with 3 SUNSCREEN FILTERS UVA / UVB
EXOTIC COCONUT TANNING OIL SPF 15 is a sunscreen body oil with a transparent light texture, suitable for all skin types. Enriched with Greek Organic Olive Oil and a combination of emollient ingredients of organic origin, it is easily absorbed, leaving a velvety feeling.
It offers instant tanning, while, thanks to its rich composition, deeply moisturizes the skin. It is in the form of a dry oil and is absorbed immediately.
Product without Parabens, Silicones, Paraffin Oil.
The reasons you should choose it:
1. Provides effective protection against UVA & UVB radiation
2. It gives that sexy glow to the body!
3. Spreads easily, even on wet skin.
4. Moisturizes deeply leaving a velvety texture.
5. It has a wonderful aroma of exotic coconut!
Herbal Ingredients: Jojoba Oil, Carrot Oil, Sesame Oil, Greek Organic Olive Oil, Grapeseed Oil and Vitamin E.
Weight
0.250 kg
GTIN-13

5212024901682

MPN

01682

Manufacturer

Bee Factor Natural Cosmetics

INCI

Inci:Sesamum Indicum (Sesame) Seed Oil, Caprylic/Capric Triglyceride, Prunus Amygdalus Dulcis (Sweet Almond) Oil, Helianthus Annuus (Sunflower) Seed Oil, Parfum (Fragrance), Dicaprylyl Carbonate, Octocrylene, Ethylhexyl Methoxycinnamate, Vitis Vinifera (Black Grape) Seed Oil, Dicaprylyl Ether, Coco-Caprylate/Caprate, Simmondsia Chinensis (Jojoba) Seed Oil, Cetearyl Isononanoate, Butyl Methoxydibenzoylmethane, Olea Europaea (Olive) Fruit Oil*, Hydrogenated Ethylhexyl Olivate, Glyceryl Caprylate, Tocopheryl Acetate, Hydrogenated Olive Oil Unsaponifiables, Coumarin, Daucus Carota Sativa (Carrot) Root Extract.
*Organic Cultivated
Ingredients
Jojoba Oil, Carrot Oil, Sesame Oil, Greek Organic Olive Oil, Grapeseed Oil and Vitamin E.
Composition
Oil For Fast & Deep Tanning «Exotic Coconut» SPF15 – 200ml
Bee Factor Natural Cosmetics
The healing and beneficial properties of its ingredients
Carrot Oil: It is rich in B-carotene and in vitamins A, B, C, D, E, and F . It is an excellent anti-aging ingredient also rejuvenates the tired and damaged skin.
Sesame oil: Is rich in Vitamin E and B. It detoxifies, hydrates and rejuvenates the skin. It contains oleic, linoleic acid and omega-6 fatty acids.It has antioxidant, anti-aging, firming and heating properties. It Softening and nourishing, suitable for all skin types. It has a natural sunscreen SPF 2-4.
Almond Oil: All skin types can use almond oil. It provides valuable nutrients such as vitamins A, B 1, B 2, B 6, D and E. It has mild anti-inflammatory action and does not irritate. It softens and hydrates the skin while soothing it from irritations, inflammation, and dryness.
Greek Organic Olive Oil: It is high in antioxidants (hydroxytyrosol) which have antiseptic and antibiotic properties. It is also rich in vitamin E, polyphenols but also chlorophyll. It contains high levels of Vitamin K, Sodium, and Potassium, which are beneficial for the skin.
Grapeseed Oil: lt is a rich source of omega-6 linoleic acid that offers key benefits to the skin.  It plays an important role in hydration, repair of the lipid barrier, skin glow and wound healing. Thanks to the phytosterols (mainly b-sitosterol) and the carotenoids it contains, grape seed oil offers anti-inflammatory and antimicrobial properties.
Jojoba Oil: It effectively nourishes the skin and gives emollient properties to the hair and scalp. Helps retain moisture,soothes skin conditions (acne, eczema, psoriasis, etc.), relieves sensitive skin, inflammation and reduces oiliness.
Vitamin E: It protects cells from free radicals and prevents premature skin aging. Its softening benefits help to strengthen the skin barrier, protecting the lipid balance and reducing the percutaneous loss of water. It provides antioxidant, anti-aging, moisturizing and anti-inflammatory action.
Caution
Caution in cases where:
1. You often experience photosensitivity, such as redness, peeling and itching.
2. Your skin is pale white or fair and sensitive to the sun.